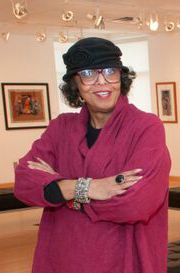 Born and raised in Washington, D.C., K. Joy Ballard Peters is a second-generation visual artist who followed her mother, E. Loretta Ballard, in teaching art and working with fabric. K. Joy taught art in elementary school (3 years) and college (27 years), while her mom taught art to junior high and elementary school students for 30+ years. Mrs. Ballard created batiks that were framed and/or made into pillow and quilts. Her most famous quilt, "Grandpa Blowing Booms for Susie and Spotty", is included in Spirits of the Cloth: Contemporary African American Quilts by Carolyn Mazloomi. Mrs. Ballard also explored and worked in a variety of media and crafts. They had a Mother-Daughter exhibit in the1969, at the Margaret Dickey Gallery, D.C Teachers College, Washington, D.C.
K. Joy Ballard Peters holds degrees from Howard University (Bachelor of Fine Arts) and Boston University (Master of Fine Arts) and studied art education at D. C. Teachers College. She has exhibited extensively in the United States for forty years and won 1st place in the Juho Rissanen Pictorial Art Exhibition, Kuopio, Finland. She has participated in more than 10, one-woman exhibitions and her appliqué art is found in Bishop College Collection, Texas; Georgia Art Bus, Fulton County Arts Council and Library, Apex Museum and BellSouth in Atlanta, GA; Brown & Company, CPA, PLLC, Maryland; and in other corporate and private collections across the country.
Starting as a founding faculty member at Atlanta Junior College, now Atlanta Metropolitan State College, K. Joy completed 27years of service prior to retiring in 2001. During those years she served on the City of Atlanta's Bureau of Cultural Affairs panels, as a member of the first Fulton County Arts Council, on State of Georgia Arts Review Panels, and as the Artist Market Coordinator for the National Black Arts Festival from 1988 – 2010. K. Joy also served on Boards: Neighborhood Arts Center, Hammonds House Galleries, and Alliance Theatre. The Arts have always been an important part of her life and living and she loves being actively involved!
K. Joy has become a full-time visual artist, although she does make time to conduct workshops from time to time. She is constantly creating some form of art and enjoys every moment of the challenge. She thinks of herself as the artist who is "radiantly beautiful, vibrantly healthy, and joyously alive!"
For complete and updated professional vitae, download the PDF.