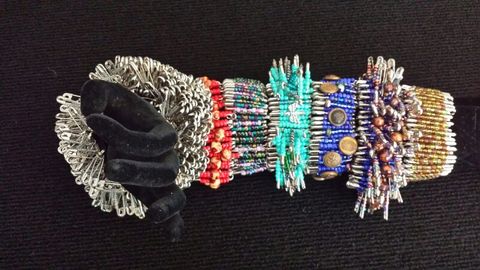 Safety Pin Bracelets
The beaded safety pin jewelry has it origin in African countries like Senegal and South Africa. There are pins, necklaces and bracelets, all made from safety pins and beads, often strung on single elastic cords. There are two types of safety pin bracelets created by K. Joy Peters, all one-of-a-kind. The flat or low relief bracelets are varied in color, patterns and designs. The mega dancing beaded bracelets utilize hundreds of safety pins, some extended outward, to create movement and pizzazz. She continuously creates unique, one-of-a-kind jewelry statements that excite and amaze.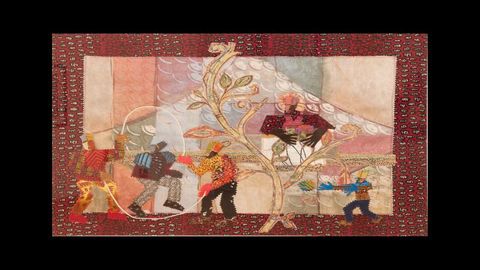 Appliqués
The appliqué technique used by K. Joy Ballard Peters, often described as "painting with fabric", is her favorite medium and the one for which she is most known. She combines her trademark style of using colorful fabrics, pinking shears, and zigzag stitches with patterned and textured fabrics, yarn fibers, ceramic masks. At first glance, you are just beginning to see the surprises in this stunning art. K. Joy uses painterly techniques to achieve depth and dimensions in her appliqués. She starts with commercially produced fabrics, then cuts, redesigns, and machine stitches, then a metamorphic evolves into the figurative, landscape, seascape and/or abstract art. Whether the end result is in a two-dimensional, relief, or three-dimensional format, they all reflect creativity, vitality and afro-centric energy. K. Joy prefers to matt and frame her appliqués but don't be surprised to see them incorporated in note cards, sculptures, dolls, or embellished items like scarves, tote bags and aprons from time to time.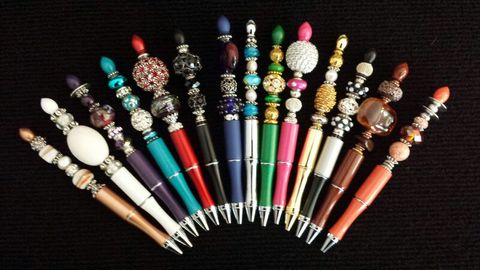 Beaded Pens
K. Joy Ballard Peters meticulously designs elegant, magical, regal and unique one-of-a-kind beaded writing instruments. The fountain and ballpoint pens combine flair and practicality in a variety of colors. The traveling piece of art attracts attention every time you pull one out of the pen's signature bag. A few fountain pens, a stylus or two, and limited numbers of "Over the Top" pens, which have extra large embellishments, are made each season. K. Joy and her cousin Cynthia Harris, purchase unique hand-made ceramic and glass beads, stones, Swarovski crystals, man-made bling and metal fillers in order to maintain the one-of-a-kind signature items.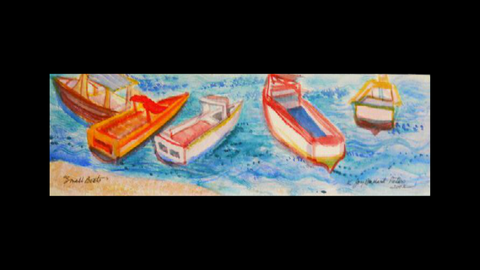 Watercolors
Painting with watercolors allows the transparency of colors to interact with the white textured paper. The paints dry very quickly, requiring one to work as quickly and move from light colored areas to dark tones, unlike the oil or acrylic media. The mixing of colors takes place on palette pans instead of the paper. Traditionally, to achieve white in a watercolor painting you must preserve the white paper with rubber cement glue or tape. Washes, thin layers of diluted colors, create light and a freshness of color.